Survey of Russian market of premium fresh fish discovers lucrative business opportunities
The Russian market of fresh fish is another growing segment with lucrative opportunities for business development in its premium segment. It occupies a specific place in the total food market and its fish seafood component, the analytical group of the sales department of FISHERIES Company majoring in such products writes for
http://www.fishnet-russia.com/
.
The peculiarity of the market of premium fresh fish is determined by the following factors:
The market of premium fresh fish is one of the segments of fresh fish market, which is at present being formed mainly at the expense of imports. It naturally predetermines the mode of operation of the market players. Local (domestic) fish in its main volume as well as the bulk of imported salmonids for the time being are supplying the segment of the economy class fresh fish market.
Meanwhile the market of premium fresh fish handles products of exceptionally high quality. There are three main features distinguishing these products from the traditional range of economy class fresh fish such as common carp, silver carp, crucian carp, trout, salmon, burbot and others:
1. The exoticism of the products
Premium fresh fish sold by FISHERIES Company represent a wide range of warmwater species from the Indian and the Atlantic oceans. It includes such fishes exotic for Russian consumers as monkfish, parrot fish (Scaridae), marlin, shark, goatfish, surmallet, ladyfish, different species of flat fish (plaice, turbo, lemon fish, dover sole), seabream, seabass and also an impressive list of so called fruits of the sea - live molluscs, crustaceans and other non-finfish aquatic products.
2. Nutritive value
The high nutritive value of marine fish is explained firstly by higher content of complete proteins (essential amino acids) in comparison with freshwater fish. Secondly, the nutritive value of marine fish results from higher content of high quality and digestible fats including polyunsaturated fatty acid omega-3 and also iodine, zinc, vitamin D, selenium. It is the opinion of Russian and foreign specialists that fresh sea fish is the only natural source containing the unique set of amino acids, complete proteins, vitamins and minerals which are vital to people.
3. Environmental safety
Modern eco-technologies of fish farming allow, unlike fishery, to produce natural sea fish with controlled bio feeding in environmentally friendly conditions of fish habitat. Although fisheries products (wild fish) are considered to be natural it doesn't mean they are eco-clean as their feeding and habitat are not controlled (therefore it is necessary to have additional international quality certificates to buy wild exotic fish thus making it difficult to organize regular shipments). That's why farmed fish, in contrast to the wild one, can be natural and eco-clean provided that all corresponding feeding and habitat technologies are observed.
It is also worth noting that premium fresh fish is a seasonal product both in terms of demand (sales depend on season and the number of days off and red-letter days during the period under review) and in terms of supply (fish supplies depend on weather conditions, season and other natural factors). Premium fresh fish as a commodity of premium segment covers not only the rational physiological needs but also the emotional ones. At the same time premium fresh fish is considered to be one of the attributes of premium consumer segment. But in comparison with other premium goods (clothes, cars, household appliances) premium fresh fish is relatively affordable and able to meet status needs of a wide circle of consumers.
Speaking about the specific character of this market it is worth noting that premium fresh fish is considered to be not only an exotic commodity but also absolutely non-standard with relation to traditional (for domestic merchandising) quality characteristics and signs of high quality. This to a certain extent complicates the process of incoming quality control of the products during the fresh fish deliveries, for example to retail segment including even international retail chains of companies which have similar experience in purchasing and selling. Thus, the popular parrot fish (with excellent taste properties) in absolutely fresh form has typical slime on its scales what is totally unacceptable in terms of traditional rules of incoming quality control of fresh fish. But this natural characteristic of parrot fish is its defense reflex which is used when fish falls asleep. And the slime only means that the fish is caught in this state. Many exotic fishes have similar natural peculiarities which aren't dangerous for people's health but at the same time they don't meet the requirements of GOST State Standard 7631-85 "Fish, sea mammals, sea invertebrates and products of their processing. Rules of approval, organoleptical methods of quality assessment, procedures of samples' selection for laboratory tests".
FISHERIES Company
FISHERIES Company says it is the only Russian specialized producer and supplier of premium fresh fish for such retail chains as Metro, Real, Ashan, Azbuka Vkusa (the ABC of taste), Globus Gyrme (Globe of Gourmet) and for restaurants (HoReCa). Premium fresh fish, delivered by FISHERIES, is bought directly from producers (foreign and local suppliers - farmers, fishermen and specialized distributors) and then sequentially passes all stages of distribution in the chain "sea-to-store", "sea-to-restaurant". The logistics of Fisheries Company is built on the principle JIT (Just in time), the average distribution rate of fresh fish in the chain "sea-to-store", "sea-to-restaurant" takes 48-72 hours, and in the chain "sea-to-coldstore of Fisheries Company" - up to 48 hours. At Fisheries Company's coldstore fish is only chilled and after carrying out the incoming quality control with the assistance of a representative of veterinary association and sanitation epidemiological service of Moscow City, the products are formed into customer orders and delivered directly to the storage of a customer (stores and restaurants).
Fisheries Company has its own fish filleting department and produces fresh fish fillets. The quality of premium fresh fish is not only the main competitive advantage of Fisheries Company but one of the strategical lines of the company's development. In 2008 the company is going to get its quality management system (QMS) certified according to ISO 22000 and HAACP. Realizing the significance of all aspects of consumer safety and facing the specific character of organoleptical assessment of fresh exotic fish at the stage of incoming quality control, Fisheries Company regularly examines its products in VNIRO (All-Russian fishery and oceanography research institute). The laboratory VNIRO-Test determines the signs of freshness of fresh exotic fish. Thus the company gets a report with detailed information about the signs of freshness of each species. There is no need to say that such documentation considerably simplifies the incoming logistics for retail chains. It also serves as the basis for sales staff training.
Unfortunately there is almost no regular official statistics about fresh fish market. The experts estimate the market capacity of all fresh fish approximately at the level of 350-380 thousand tonnes (less than 9% of total fish market volume). According to the official statistics, in 2005 Russia produced 372 thousand tonnes of live and chilled fish less herring.
At present there are following main trends being observed on the premium fresh fish market:
the growing popularity of fresh fish, non-finfish aquatic products and seafood-based cuisine owing to the fact that more and more people prefer healthy life-style;
the growing popularity of bio and eco products, produced without GMO (genetically modified object);
growth of demand for premium fresh fish as a weekend product;
innovative technologies of freshness retention (gas environment, liquid ice);
the dynamic development of fish market has resulted in the growth of its investment appeal. This market is subject to investments and in future - consolidations and mergers;
economic growth and stabilization as well as the increased incomes of people stimulate the demand for high- quality fresh seafood;
the dynamic development and the growing number of retail chains, restaurants and hotels;
infectious diseases of poultry and domestic animals, customs barriers and quarantines boost demand for premium fresh fish.
In order to meet rational fish consumption rates (25-30 kilos per capita per year) the fish market potential in Russia has to amount to no less than 4.5 million metric tons. According to international average fish consumption rates per capita, the growth of fish consumption up to two times a week can increase market capacity up to 9 million tonnes. But at the same time no less than 40% (according to European standards) or 1.8-3.6 million tonnes must fall at fresh fish. According to the company's estimates, at present the premium market segment of fresh fish is developed approximately at 30% indicating its potential for further growth.
At the same time the market of premium fresh fish has a disadvantage connected at the least with the following factors:
total dependence on the policy of government control of food imports and import restrictions relative to some fish species;
total dependence on freight service market;
dependence on natural and climatic factors which have an influence on fish farming and aquaculture;
absolute lack of domestic government specifications for the product and lack of Russian State Standards for fresh exotic sea fish;
the market of premium fresh fish is considered to have a lot of barriers. When wishing to enter this market the company, specializing in premium fresh fish, must generate large-scale sales, have transport, coldstores, wide client base, certificate portfolio, own logistics, sales and marketing technologies. Besides, it needs to employ competent and skilled staff. Further, there is a legislative barrier and an experience barrier having a place on this market.
At present FISHERIES Company (having more than 7 years' experience on this market and being a leader in premium fresh fish supplies to retail chains) is in a position to see both the lucrative opportunities of the market and the natural risks.
The premium fresh fish market is going through the growth stage with good dynamics and potential. However, further dynamic growth of premium fresh fish sales is kept back on the one hand by the fact that Russian consumers aren't aware of using such products properly (they don't know how to choose diet fish species according to the consumer's age, illness or baby food and so on) and on the other hand, in Russia there is a shortage of fish marketing technologies and merchandising.
All these factors can explain relatively low average purchase frequency (consumption rate) of fresh fish even in Moscow and Saint Petersburg. According to a poll conducted by The Institute of Agricultural Marketing, the average consumption rate amounts to 2-3 times a month, while the rational consumption of fresh fish is no less than 6-8 times a month. This three-fourfold growth reserve in the market potential is a space for further development and an opportunity for FISHERIES Company. The company's own market survey (the buyers of premium fresh fish in retail chains were questioned in September 2007), confirms this trend of consumption in Moscow: up to 60 of the pollees buy fresh fish 3-4 times a month (see the figure below).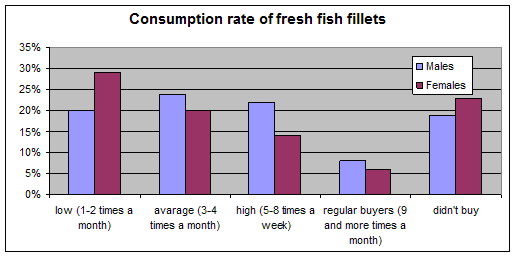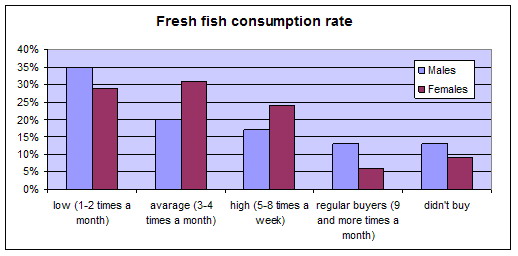 About company
FISHERIES Company is a specialized producer and supplier of premium fresh fish and live molluscs for stores, retail chains, restaurants, hotels and cafes.
The range of fresh fish and non-finfish aquatic products includes seabream, seabass, monkfish, parrot fish, halibut, marlin, shark, goatfish, surmallet, ladyfish, different species of flat fish (plaice, turbo, lemon fish, dover sole), fresh fish fillet in assortment, live oysters in assortment, mussels, sea shells, shrimps, lobsters, octopus and others. Delivery all over Russia.
Contact details:
Fisheries Company
Dom 6, 5 Verkhniy Mikhailovskiy Proezd, Moscow, Russia
Tel: (495) 258-82-82
http://www.fisheries.ru/
MEGAFISHNET.com is a global fish and seafood marketplace with an emphasis on APPROVED SUPPLIERS from such major sources as China, Russia, Vietnam, Europe, Americas, etc.
More details →