SIMRAD introduces two new dual wireless sensors for PI Catch Monitoring Systems
New sensor technology reduces costs and increases catch efficiency, quality and fishing safety.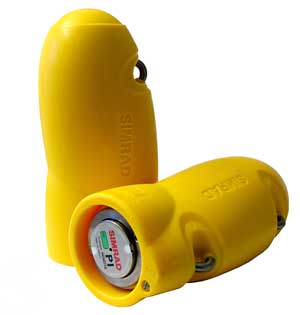 Simrad, in its ongoing efforts to ensure that even the most sophisticated catch enhancing and monitoring systems are available for all budgets has developed two new dual wireless sensors for its highly regarded PI catch monitoring systems. By combining data that was previously provided by two separate sensors, the new Spread/Depth and Remote/Depth sensors can reduce costs, save fuel, improve catch and enable more information to be provided by the Simrad PI systems.
"The introduction of these new dual sensors means we now offer eleven different sensors for our PI catch monitoring systems, which expands the amount of data available to skippers and reduces the number of sensors needed to provide it. By combining the data of the new sensors with our existing sensors, it is possible to build up a clear picture of what is happening below the surface, which of course helps to improve catch quality and quantity," comments Mads Dahl, Sales Director, Simrad.
The PI Spread/Depth and Remote/Depth are basically intended for pelagic and bottom trawls, they will however also prove beneficial for Danish seining. Together they measure the physical distance between the trawl doors and the depth of each doors. With this information, skippers will know when the trawl hits the bottom or accidentally surfaces and be able to accurately line the gear up with the fish. It also enables the balancing of trawl doors in relation to sea currents and good trawl geometry, which helps to avoid an inclined trawl opening.
"Since Simrad became the first company to make Sonar affordable to civilians over 50 years ago, one of our goals has always been to drive down the costs and make hydroacoustic equipment more available to increase profitability for professional fishermen. Through our continuous R&D efforts this is something we achieve on a regular basis, as demonstrated by the introduction of these new dual PI sensors," says Mads Dahl.
The new Simrad PI Spread/Remote and Remote/Depth sensors can be utilised with the PI44 and PI54 catch monitoring systems. All Simrad PI Catch Monitoring System provide essential information for improving catch and trawl safety, including: Stability of the trawl doors, the volume and quality of the catch, behaviour of the bottom or pelagic trawl and the correct timing of a purse seine. Simrad has also integrated echo sounders into its PI systems to improve efficiency and reduce overall costs even further.
MEGAFISHNET.com is a global fish and seafood marketplace with an emphasis on APPROVED SUPPLIERS from such major sources as China, Russia, Vietnam, Europe, Americas, etc.
More details →