Russia's trout import trends in 2004-2007
Dynamics of Russia's trout imports in 2004-2007 was mixed with imports of frozen trout stably growing in 2004-2006 and slightly decreasing in 2007, while imports of chilled trout after a growth in 2004-2005 dramatically falling in 2006 and jumping again in 2007. The conclusion has been made by FISHNET analysts (http://www.fishnet-russia.com/, https://www.fishnet.ru/) after a study of official statistics of Russia's Federal Customs Service on the nation's imports of products of HSC Group 03 "Fish, Shellfish, Mollusks and Other Aquatic Invertebrates".
Note: The below report is based on the figures of importation from countries of origin.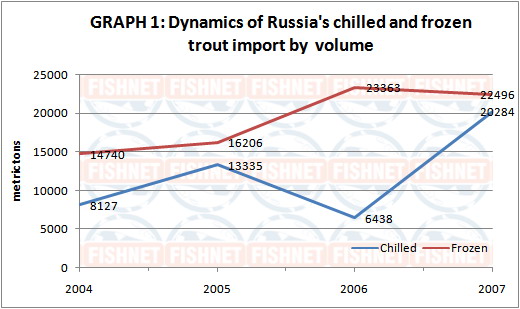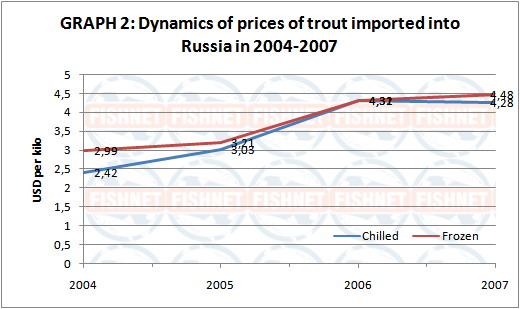 2004-2005
Total import of fresh/chilled and frozen trout into the Russian Federation in 2005 amounted to 29,541 tonnes at 92.4 million USD, thus displaying a 29% increase in volume and a 45% rise in value as compared to 22,867 tonnes and 63.8 million USD in 2004. The growth was indicative of stably strengthening demand for seafood delicatessen in Russia as well as of the development of retail chains and HoReCa sector.
The largest producer of frozen and chilled trout imported into Russia in 2005 was Norway with the result of 24,463 tonnes earning 76.5 million USD, which was 25% up by volume and 41% up by value as compared to 19,531 tonnes and 54.3 million USD in 2004.
The second largest producer of trout shipped to Russia was Denmark with the volume of 2116 tonnes and the value of 6.8 million USD boosting its supplies to Russia by 28% in volume and by 36% by value as compared to 1654 tonnes and more than 5 million USD in 2004.
The third largest producer of the valuable species imported into the Russian Federation was Chile with the volume of 1581 tonnes worth more than 5 million USD, thus displaying an increase by 43% in volume and 52% in value as compared to 1103 tonnes and 3.4 million USD in 2004.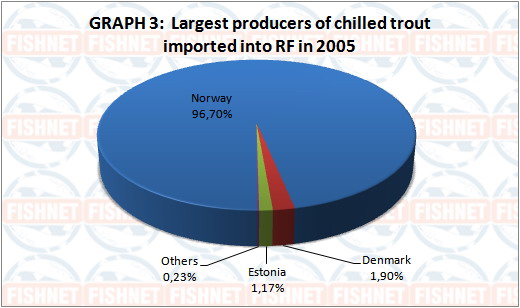 Fillets
(No official figures for chilled trout fillets are available for the years 2004-2005.)
Russia's import of frozen trout fillets in 2005 amounted to 73 metric tons, rising by 66% as compared to 44 tonnes in 2004. With the volume of 38 tonnes, Norway was Russia's leading supplier of the above products, boosting its shipments by 15% as compared to 33 tonnes in 2004.
The second largest producer was Chile with the volume of 24 tonnes, 115% up on 11 tonnes in 2004.
Entering the Russian market for the first time with the volume of 11 tonnes, Estonia became the third leading producer of imported frozen trout fillets.
It is worth noticing, that in 2005 Russian imported 22 tonnes of Argentinean pescadilla under the HSC "0304201100 - Frozen fillets of trout Oncorhynchus mykiss, more than 400 grams each". Though the fish is called seatrout, it should have been imported under the HSC 0304299900 and this overview does not refer to it as a trout species.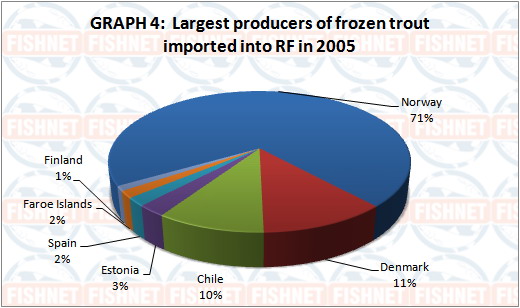 2006
In 2006 the Russian imports of trout showed noticeable changes. In particular, shipments of chilled products considerably decreased, while imports of frozen trout were stably growing.
The decrease of shipments of chilled products was caused by introduction of restrictions for shipments from Norway from 1 January 2006 due to disclosure of heavy metals hazardous to humans and animals. In combination with other market factors, those restrictions resulted into a 43% price rise from 3.03 to 4.32 USD per kilo. The idea behind the restrictions was to switch to importation only from plants approved by Russia's Federal Service for Veterinary and Phytosanitary Surveillance Rosselkhoznadzor.
More specifically, imports of chilled Norwegian trout in 2006 sank by 71% as compared to 2005 and amounted to 3791 tonnes down from 12,895 tonnes in 2005. Growing imports of chilled trout from other countries could not compensate for falling shipments of Norwegian trout, therefore the total volume of imports fell by 52% from 13,335 tonnes in 2005 to 6430 tonnes in 2006.
Russia's imports of chilled trout fillets in 2006 amounted to 8 tonnes only worth 36,776 USD. Shipments originated from three countries: Finland (6.4 tonnes), Estonia (1 tonne) and France (380 kilos).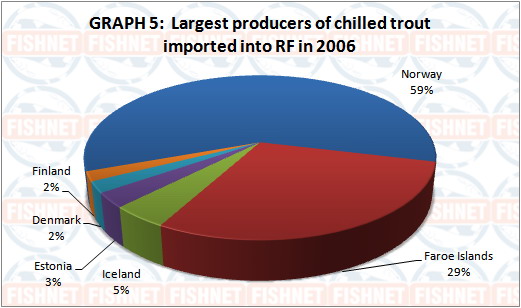 Total imports of frozen trout into Russia in 2006 grew by 44% to 23,343 tonnes from 16,225 tonnes in 2005. A considerable rise of shipments by 273% was reported from Chile. The volume of imports from that country rose from 1581 tonnes in 2005 to 5893 tonnes in 2006. Besides, there was a steep rise of imports of Faroese trout, namely by 208% from 260 tonnes in 2005 to 802 tonnes in 2006. Imports from Norway, the largest producer of frozen trout for Russia grew by 23% from 11,569 tonnes to 14,240 tonnes.
Most probably, in 2006 Russia's market of imported trout responded to the shortage of chilled products by purchasing frozen fish and that could be proved by the reports of large market players. After the introduction of the restrictions for shipments of chilled fish from Norway, many processors simply had to switch to frozen raw material. (In early 2006 Roman Shevtsov, deputy purchasing director of Saint-Petersburg-based fish processing combine OOO ROK-3 (ltd) said that in order to continue production in normal mode they had to substitute chilled salmon by frozen fish.) Moreover, the average import prices both for chilled trout and frozen trout in 2006 appeared to be the same at ca.4.32 USD per kilo. Imports of frozen trout fillets in 2006 decreased by 27% from 73 tonnes in 2005 to 53 tonnes in 2006.
Chile was the largest producer of frozen trout fillets imported into the Russian Federation in 2006 with the country contributing 28 tonnes, 18% up on 24 tonnes in 2005. Chile was followed by Norway with the volume of 23 tonnes, 40% down on 38 in 2005. The third top leader was Estonian with its 2 tonnes, 81% down on 11 in 2005.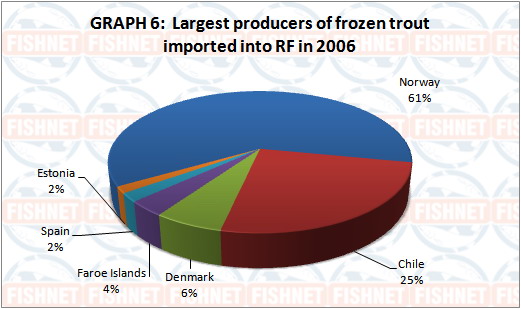 2007
In the year 2007 the situation on the market gradually stabilized after a switch to shipments from Russia-approved plants. As a result of the new regime as well as due to other factors, including a general growth of the market demand, the rise of premium-class seafood segment, development of restaurant business and retail chains, import of chilled trout into Russia jumped by 215% from 6430 tonnes to 20,284 tonnes. Such important rise of imports of chilled trout could be also explained by the fact that Russian importers started to switch from purchases of frozen product to shipments of chilled trout (from Norway in particular). According to the above Graph 2 showing the dynamics of imported trout prices, both chilled and frozen, the average prices for chilled trout dropped from 4.32 USD per kilo to 4.28 USD, while prices for frozen trout grew to 4.48 USD per kilo. Such price difference made it more profitable for the importers to purchase chilled trout rather than frozen as processors did not have to defrost it. Besides, the quality of chilled products is much higher than that of frozen products. Moreover, in case of need, according to market players, it is cheaper to freeze the fish in Russia than in Europe.
In the course of the year 2007 Russian imports of chilled trout of the Norwegian origin jumped by 384% from 3791 tonnes to 18,365 tonnes. In 2007 Finland, which was on the sixth place in volume terms (122 tonnes) in 2006, became Russia's second largest producer of chilled trout for the Russian market, boosting shipments by 502% to 736 tonnes. Unlike the general positive trend, the Faroe Islands, the third largest producer, decreased its supplies by 68% from 1868 tonnes to 598 tonnes.
According to Russia's Federal Customs Service, no information about imports of chilled trout fillets was available.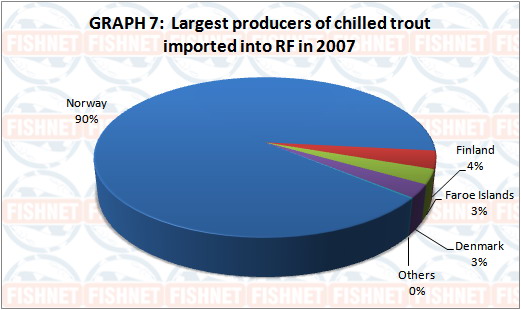 The switch of Russian importers from frozen to chilled products was also seen in the structure of the nation's imports of frozen trout in 2007. Though the total imports of frozen trout in Russia dropped by only 4% from 23,343 tonnes to 22,495 tonnes, the supplies of Norwegian trout decreased by 74% from 14,240 tonnes to 3726 tonnes. The Norwegian imports were substituted by shipments from Chile, which grew by 132% from 5893 tonnes to 13,690 tonnes which led the country to the first place among the largest producers sending frozen trout into Russia. The decrease of shipments of chilled trout from the Faroe Islands in 2007 was compensated by growing imports of frozen trout by 150% from 802 tonnes to 2001 tonnes. It is worth noticing, that in 2007 Finland stepped up as a large producer of trout imported to the Russian market. The supplies of Finnish chilled trout grew by 502% to 736 tonnes, while supplies of frozen trout jumped by 1630% from 55 to 948 tonnes. Besides, the Russian market saw entrance of Turkey shipping nearly 100 tonnes of frozen products in 2007.
In the year 2007 import of frozen trout fillets into Russia recovered after a drop in 2006, growing by 82% and reaching 97 tonnes.
Russian importers did not purchase frozen Norwegian trout fillets. The country's withdrawal from the Russian market was compensated by steeply rising supplies from Chile and Estonia. Import of frozen trout fillets from Chile grew by 184% from 28 to 81 tonnes. Russian imports of Estonian trout increased by 659% from 2 tonnes to 16.5 tonnes.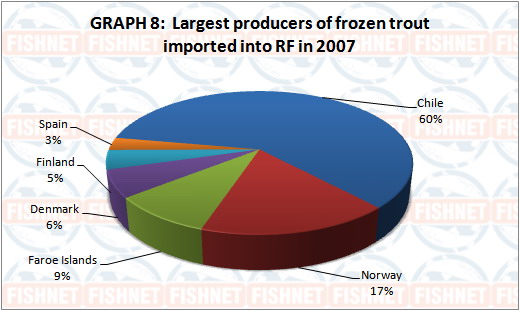 MEGAFISHNET.com is a global fish and seafood marketplace with an emphasis on APPROVED SUPPLIERS from such major sources as China, Russia, Vietnam, Europe, Americas, etc.
More details →