Russia's leading seafood producer expands DoMiRe line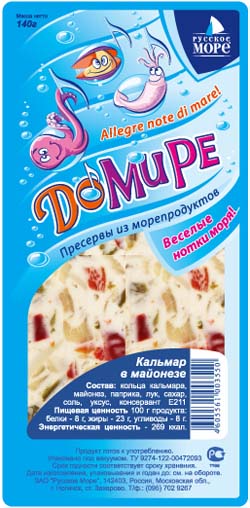 As of 1 July 2008 Russian Sea Company, one of the nation's leading seafood producers, has launched new marinated fish products from its DoMiRe labeled range. More specifically, the launched products include squid with laminaria in marinade, squid with laminaria in mayonnaise, squid with spices in Asian style, according to the company's official release received by FISHNET www.fishnet-russia.com (www.fishnet.ru).
DoMiRe-labelled marinated products have been specially developed for the medium price segment. The first batch of marinated products took off in November 2007. The range of products consisted of three items: mussels in oil, squid in mayonnaise, and seafood cocktail in oil. The company says that appealing packaging, high quality of the raw material, exclusive recipe and attractive prices have enabled it to win ca.15% of the regional market.
The product portfolio of the company also include marinated shellfish of higher price segment produced under the TM Mediterana. The product entered the market in September 2006. The recipe for Mediterana-labeled products was developed with respect to the Mediterranean cuisine. These marinated products are remarkable for more sophisticated packaging, easy to open thanks (bend and pull out). Mediterana-labeled range has been actively promoted in Moscow and Saint-Petersburg as well as in federal chains in regions.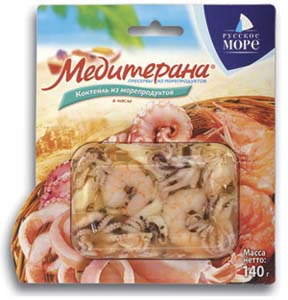 Emergence of marinated seafood on the market was called forth by consumers' strengthening demand for new products along with by general improvement of the population's welfare. According to the expert estimates, during the recent year the demand for marinated seafood and the market growth amounted to 25%.
The company's DeMiRe and Mediterana labeled products do not contain GMO and are characterized by low content of vinegar which is extremely important for consumers keen on product natural properties and healthiness.
The net weight of the company's new products is 140 grams, the storage life is 3 months, and the storage temperature is 0 to -4 C.
More information from:
Mila Rotynskikh, tel.: +7 495 6489050 ext. 216, +7 9030006905, e-mail: rm@russiansea.ru
MEGAFISHNET.com is a global fish and seafood marketplace with an emphasis on APPROVED SUPPLIERS from such major sources as China, Russia, Vietnam, Europe, Americas, etc.
More details →