iKas's Snek Ikan Cris Crisp Fish Rolls Perisa Udang Shrimp Flavoured
These small snacks were shaped remotely like Rollitos except with more layers of rolling and not quite as wide, reports www.megafishnet.com with reference to Taquitos.Net.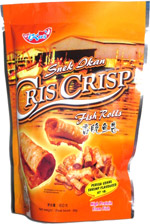 They seemed to consist of just the rolled-up shell, without anything actually inside, as all of the fish and shrimp was apparently embedded into the dough.  There was lots of and lots of fishy taste, along with some strong chili pepper heat. Most of our tasters thought these were just awful, but there were a few fans who just loved them and kept returning to bag for more and more.
MEGAFISHNET.com is a global fish and seafood marketplace with an emphasis on APPROVED SUPPLIERS from such major sources as China, Russia, Vietnam, Europe, Americas, etc.
More details →