Barents Sea/Norwegian Sea: Russian fishermen facing persistent turbulence on bottom fish export market
The export market for bottom fish products made by the Russian fleets in the Barents Sea/ Norwegian Sea has recently been hit by turbulence with the cod prices broadly fluctuating to produce an overall downward trend, fishery sources in Murmansk told http://www.fishnet-russia.com//https://www.fishnet.ru/ .
There seems to be no clear reason behind the development. One possibility may represent an indication of the price on bottom fish probably reaching its climax with end consumers in supermarkets resisting any further increases and switching to cheaper white fish alternatives. This has happened in a situation of the considerable reduction of cod supply from Iceland and a wild surge of oil prices in defiance of the both above factors which should have driven the market in the totally different direction.
At least, no general rise has occurred as per end of May. Moreover, since the start of 2008 the prices on Russian cod fillets and h/g product have been steadily but surely declining.
Haddock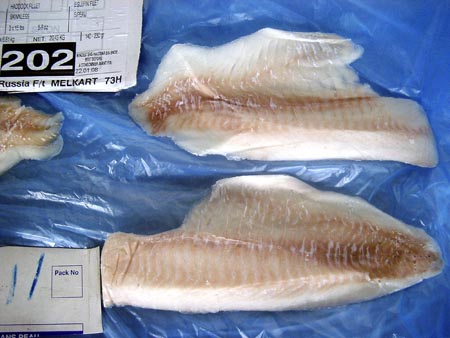 The decline for haddock has been even more pronounced as good fishery has led to a glut in the Norwegian coldstores. As a result, many Norwegian traders will not buy the Russian haddock irrespective of the price and instead they will offer Norwegian-caught haddock for the Russian market.
Saithe
As regards saithe, the fish has always been harvested by the Russian fleet for shipping to the domestic consumer. However in summer the Russian fishermen will normally be cautious to land the product in Russia in view of the seasonal decline of the sales.
MEGAFISHNET.com is a global fish and seafood marketplace with an emphasis on APPROVED SUPPLIERS from such major sources as China, Russia, Vietnam, Europe, Americas, etc.
More details →